DAY 05 HASSAN - HOSPET: After breakfast, drive to Hospet, the satellite town built during the reign of Krishnadevaraya. This is a typical country town of Karnataka and is frequented by people who come to see the Vijayanagar ruins. On arrival, check into the hotel for 02 nights' stay.
DAY 06 HOSPET - HAMPI - HOSPET: Morning, go for full day excursion to Hampi to explore the ruins and temples. Once the flourishing capital of the Vijayanagar Empire, Hampi was abundant in wealth, military prowess, and culture. The Pampati Swami Temple, the Queen's Bath, the Lotus Mahal, the King's Balance and the musical pillars of the Vittala Temple evoke memories of bygone splendour. Other main attractions here are the temple complex of Lord Virupaksha, Ugra Narasimha, Matanga Hill and the Vittala Temple Complex. Evening, back to the hotel for overnight stay at Hospet
DAY 07 HOSPET - BADAMI: After breakfast, drive to Badami, picturesquely situated at the mouth of a ravine between two rocky hills. Badami is famous for its cavetemples-all hewn out of sandstone on the rockface of a hill. On arrival at Badami, check into hotel for 01 night stay. Afternoon, visit to Aihole and Pattadakkal. Located 43 km from Kudala Sangama, Aihole was the ancient capital of Chalukyas. Famous as the cradle of Indian Architecture, Aihole has over a hundred temples scattered around the village, built between the6th and 8th centuries. Situated on the left bank of the Malaprabha river, Pattadakkal is a world heritage centre. The town has 10 major temples representing early Chalukyan architecture. Evening, back to the hotel for night stay at Badami.
DAY 08 BADAMI - GOA: After an early breakfast, start your drive to Goa. Check into a beach resort for 02 nights' stay. The most comprehensive beach destination in the country, Goa is accessible from Bombay by air. Goa's coastline provides endless sun-drenched crescents of sand. Whitewashed chapels and churches that dot the landscape are surrounded by sleepy villages and rice fields. Rest of the day, free to relax by the beach. Overnight stay at Goa.
DAY 09 GOA: After breakfast, go for a sightseeing tour of Goa including the churches and Panjim city. Afternoon is free to relax by the beach. Overnight stay at Goa
DAY 10 DEPART FROM GOA: Morning at leisure. Later, transfer to Goa Airport for your flight back home

Karnataka, Tamilnadu & Kerala tourism South Indian Delights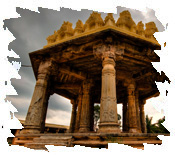 DAY 01 ARRIVE AT BANGALORE: On arrival at Bangalore Airport, meet and transfer to hotel for 01 night stay. Bangalore, often referred to as the 'Garden City' is known for its numerous parks and avenues. Afternoon, sightseeing tour of Bangalore covering Tipu Sultan's Palace, Bull Temple, Lalbagh Gardens, Cubbon Park& Museum and Vidhana Soudha which houses both the State Legislature and the Secretariat. Overnight stay at Bangalore.
DAY 02 BANGALORE - MYSORE: After breakfast, drive to Mysore. The capital of a former princely state, Mysore is a city of palaces and gardens and is famous for its silk, sandalwood and jasmine. En route, visit Summer Palace of Tipu Sultan, Srirangapatnam and Ranganathittu Bird Sanctuary. On arrival, check into the hotel for 02 nights. Evening free to explore the colorful bazaars. Overnight stay at Mysore
DAY 03 MYSORE: Morning, city tour including Mysore Maharaja's Palace, which is one of the biggest in India. Later, visit the Nandi Bull and Chamundi Hills. Rest of the day, free to relax. Overnight stay at Mysore.
DAY 04 MYSORE - OOTY: After breakfast, proceed to Ooty, referred to as the 'Queen of Blue Mountains' and located at a height of 2,286 m. On arrival, check into the hotel for 01 night stay. Afternoon, visit popular attractions including the Botanical Gardens, Lake Doddabetta, Mukurti Peak and tea plantations. Overnight stay at Ooty.
Day 05 Ooty to Kodaikkanal (264 Km ): Kodaikanal is one of the most popular hill resorts in India. It literally means 'gift of the forest' in Tamil and is zealously guarded by the sylvan beauty of dense forests on the upper Palani Hills near Madurai, at an altitude of about 2133 metres. Pear orchards and buildings with gabled roofs add a fruity and romantic touch to Kodaikanal Check in at resort and rest of the day to enjoy the cool climate and resort fecilities
Day 6 Full day at kodaikkanal for siteseings: Visit places and Prime Attractions like , Boat Club, Bryant Park, Shenbaganur Museum, Coaker's Walk , Kodaikanal Lake, Pillar Rocks, Kurinji Andavar Temple, Silver Cascade, Telescope Houses,Suicide point, Devild Kitchen etc
Day 7 Kodaikkanal to Munnar : Full of Breathtaking forest and highrange roads to have a different travel experience all together. Check in at resort and stay O/n
Day 8 Munnar :.Full day for visiting Cheyyappara Water Falls, tea plantations, Eravikulam National Park, Devikulam, Mattupetty, Echo Point, Kundal Dam, etc. Check in to your hotel by noon. Overnight stay at MUNNAR
Day 9 Munnar to Thekkady: After breakfast, drive to Thekkady, the land of unending chains of hills and spice scented plantations. It houses the famous wildlife sanctuary in South India and has also been declared as a Tiger Reserve. On arrival, check into the hotel for 02 nights' stay. Afternoon, visit the spice plantations and the Kumily town. Overnight stay at Thekkady.
Day 10 Thekkady : Morning at leisure and is free for own activities. You can soft trek through the forest or go for an elephant ride.Evening, you can enjoy boating through Lake Periyar to watch the wildlife. This is the only sanctuary in India where you can view wildlife at close quarters from the safety of a boat. Overnight stay at Thekkady.
Day 11 Thekkady to Kumarakom : by road and to aleppey By Houseboat, O/N at Houseboat After breakfast, drive to Kumarakom where you will check into a Houseboat at 1200 hrs for night cruise towards Alleppey. Alleppey has large networks of canals and is the centre for backwater cruises in our state. During the cruise, you can stop for short walks through the nearby villages, enjoying local life. Meals will be served on board. Overnight stay in Houseboat.
DAY12 Aleppey - COCHIN : Drive to Cochin and on arrival, check into hotel for 02 nights' stay. Cochin, the 'Queen of the Arabian Sea' has one of the finest natural harbors in the world. The ancient churches, palaces and synagogues in this city are famous Evening, go for a motorboat cruise to watch the sunset and the Chinese fishing nets. Overnight stay at Cochin
DAY 13 COCHIN: After breakfast, go for half-day sightseeing tour of Cochin covering the Dutch Palace (closed on Fridays), which was built by the Portuguese in 1555 and was presented to the Raja of Cochin as a gesture of goodwill. The Jewish Synagogue (closed on Fridays & Saturdays) was originally constructed in 1568, but was destroyed by Portuguese in 1662.Thiswas rebuilt two years later when the Dutch took over Cochin. The St. Francis Church, said to be India's oldest European-built church was constructed in 1503. Having died in Cochin in 1524, Vasco da Gama was buried here for 14 years before his remains were taken to Lisbon. Afternoon at leisure. Late evening, drive to the Cultural Centre to enjoy the Kathakali dance show. Overnight stay at Cochin
DAY 14 COCHIN - Kovalam: Kovalam is an internationally renowned beach with three adjacent crescent beaches.It has been a favourite haunt of tourists,especially Europeans,since the 1930s.A massive rocky promontory on the beach has created a beautiful bay of calm waters ideal for sea bathing. The leisure options at this beach are plenty and diverse-sunbathing, swimming, herbal body toning massages,special cultural programmes, Catamaran cruising etc
DAY 15 Kovalam: Full day at Kovalam beach at leasure
DAY 16 Kovalam to Kanyakumari by road ( 100 Km ): Very rare occation to see sunrise and sunset in the presence of Three oceans ( Bay of Bengal, Indian Ocean,& Arabian sea ) all joining together
DAY 17 Kanyakumari to Madhurai : After an early wake up to experience Sunrise and breakfast, drive to Madurai. Known as the temple town of South India, Madurai is the second largest city in Tamil Nadu. On arrival, check into the hotel for 01 night stay. Afternoon, for sightseeing tour of Madurai. Madurai is famous for the Meenakshi Temple, with its towering gopurams and rare sculptures. Other important attractions include Thirumalai Naicker Palace, Koodal Azhagar Temple and the Gandhi Museum. Evening, visit Sri Meenakshi Temple and attend the Pooja ceremony. Over night stay at Madurai
DAY 18 MADURAI to Rameshwaram and back to madhurai : Rameshwaram in Tamil Nadu is popularly referred to as 'Benaras of the South.' Rameshwaram happens to be one of the most visited pilgrim sites of India. Legend has it that to attain Moksha, a visit to Rameshwaram is mandatory. In the epic Ramayana, there is mention of Rameshwaram at various places. Rameshwaram is at a distance of just 24 kms from Sri Lanka. Spread over an area of 61.8 square kilometres, Rameshwaram happens to be in the shape of a conch.
Tourist Attractions : The Ramanatha Swamy Temple, Agnitriham, Ramjharoka temple, Dhanushkodi, Kothandaramaswamy Temple
Day 19 Madhurai : Full day at Madhurai relax and visit the temple town at it's maximum.O/N at Madhurai
DAY 20 MADURAI - TRICHY - TANJORE: After an early breakfast, drive to Tanjore-en route visiting Trichy. Morning, visit the magnificent Rock Fort that dominates the city. 437 steps cut out into the rock side and interspersed with shrines, lead to the Vinayaka Temple built at its highest point. The ascent is climaxed by a magnificent view of the sacred Kaveri River. At a lower level along the rock is the Tayumanaswamy Temple dedicated to Lord Shiva. Later, visit Sriranqam, a massive temple on an island in the Cauvery and dedicated to Lord Ranganathaswamy. The temple has 21 magnificent gopurams and is adorned with exquisite sculptures. Proceed to Tanjore and check into the hotel for 02 nights. Overnight stay at Tanjore
DAY 21 TANJORE: After breakfast, go for sightseeing tour of Tanjore. Tanjore was once the capital of Chola dynasty, that ruled South India between 10th and 14th centuries. Visit the most spectacular Brihadeeswara Temple, capped by a monolithic cupola made of a single granite rock weighing 80 tonnes. The temple itself is decorated with carved panels depicting mythological events. Later, visit Saraswathi Mahal Library and the Art Gallery with its large collection of chola bronzes. Overnight stay at Tanjore
DAY 22 TANJORE - PONDICHERRY: After an early breakfast, drive to Pondicherry. En route, visit Gangaikondacholapuram and Darasuram. On arrival, check into the resort for a nights' stay. Pondicherry is a charming coastal town with a few enduring pockets of French culture and an ashram Afternoon to explore the nearby places including the Auroville, Pondicherry Museum and the Botanical Garden. Evening to relax at the beach. Overnight stay at Pondicherry
DAY 23 PONDICHERRY - MAHABALIPURAM - CHENNAI: After breakfast, drive to Chennai. En route, visit Mahabalipuram. Mahabalipuram was once a flourishing port of the Pallavas of ancient India. The monuments and sculptures here are world-renowned. Visit the Shore Temple, Arjuna's Penance and Artisans Village at Mahabalipuram. Later proceed to Chennai and check into the hotel for 01 night. Overnight stay at Chennai
DAY 24 DEPART FROM CHENNAI: Morning at leisure. Later, transfer to Chennai Airport for your flight back home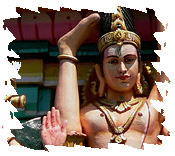 DAY 1 COCHIN: ( This tour package can either Start from Chennai or kochi ) On arrival at kochi greet and meet at airport and transfer to the hotel, go for half-day sightseeing tour of Cochin covering the Dutch Palace (closed on Fridays), which was built by the Portuguese in 1555 and was presented to the Raja of Cochin as a gesture of goodwill. The Jewish Synagogue (closed on Fridays & Saturdays) was originally constructed in 1568, but was destroyed by Portuguese in 1662.Thiswas rebuilt two years later when the Dutch took over Cochin. The St. Francis Church, said to be India's oldest European-built church was constructed in 1503. Having died in Cochin in 1524, Vasco da Gama was buried here for 14 years before his remains were taken to Lisbon. Late evening, drive to the Cultural Centre to enjoy the Kathakali dance show. Overnight stay at Cochin
Day 2 Cochin to Kumarakom:Morning after breakfast checkout and proceed to Kumarakom. Check in to the Houseboat,your dream destination of kerala Backwaters, full day cruise and stay O/N at the Houseboat
DAY 3 Aleepey - Kovalam: Morning after breakfast check out and proceed to Kovalam. Kovalam is an internationally renowned beach with three adjacent crescent beaches.It has been a favourite haunt of tourists,especially Europeans,since the 1930s.A massive rocky promontory on the beach has created a beautiful bay of calm waters ideal for sea bathing. The leisure options at this beach are plenty and diverse-sunbathing, swimming, herbal body toning massages,special cultural programmes, Catamaran cruising etc
DAY 4 Kovalam: Full day at Kovalam beach at leasure
DAY 5 Kovalam to Kanyakumari by road ( 100 Km ): Very rare occation to see sunrise and sunset in the presence of Three oceans ( Bay of Bengal, Indian Ocean,& Arabian sea ) all joining together
DAY 6 Kanyakumari to Madhurai: After an early wake up to experience Sunrise and breakfast, drive to Madurai. Known as the temple town of South India, Madurai is the second largest city in Tamil Nadu. On arrival, check into the hotel for 01 night stay. Afternoon, for sightseeing tour of Madurai. Madurai is famous for the Meenakshi Temple, with its towering gopurams and rare sculptures. Other important attractions include Thirumalai Naicker Palace, Koodal Azhagar Temple and the Gandhi Museum. Evening, visit Sri Meenakshi Temple and attend the Pooja ceremony. Over night stay at Madurai
DAY 7 MADURAI to Rameshwaram and back to madhurai: Rameshwaram in Tamil Nadu is popularly referred to as 'Benaras of the South.' Rameshwaram happens to be one of the most visited pilgrim sites of India. Legend has it that to attain Moksha, a visit to Rameshwaram is mandatory. In the epic Ramayana, there is mention of Rameshwaram at various places. Rameshwaram is at a distance of just 24 kms from Sri Lanka. Spread over an area of 61.8 square kilometres, Rameshwaram happens to be in the shape of a conch.
Tourist Attractions : The Ramanatha Swamy Temple, Agnitriham, Ramjharoka temple, Dhanushkodi, Kothandaramaswamy Temple
Day 8 Madhurai: Full day at Madhurai relax and visit the temple town at it's maximum.O/N at Madhurai
DAY 9 MADURAI - TRICHY - TANJORE: After an early breakfast, drive to Tanjore-en route visiting Trichy. Morning, visit the magnificent Rock Fort that dominates the city. 437 steps cut out into the rock side and interspersed with shrines, lead to the Vinayaka Temple built at its highest point. The ascent is climaxed by a magnificent view of the sacred Kaveri River. At a lower level along the rock is the Tayumanaswamy Temple dedicated to Lord Shiva. Later, visit Sriranqam, a massive temple on an island in the Cauvery and dedicated to Lord Ranganathaswamy. The temple has 21 magnificent gopurams and is adorned with exquisite sculptures. Proceed to Tanjore and check into the hotel for 02 nights. Overnight stay at Tanjore
DAY 10 TANJORE: After breakfast, go for sightseeing tour of Tanjore. Tanjore was once the capital of Chola dynasty, that ruled South India between 10th and 14th centuries. Visit the most spectacular Brihadeeswara Temple, capped by a monolithic cupola made of a single granite rock weighing 80 tonnes. The temple itself is decorated with carved panels depicting mythological events. Later, visit Saraswathi Mahal Library and the Art Gallery with its large collection of chola bronzes. Overnight stay at Tanjore
DAY 11 TANJORE - PONDICHERRY: After an early breakfast, drive to Pondicherry. En route, visit Gangaikondacholapuram and Darasuram. On arrival, check into the resort for a nights' stay. Pondicherry is a charming coastal town with a few enduring pockets of French culture and an ashram Afternoon to explore the nearby places including the Auroville, Pondicherry Museum and the Botanical Garden. Evening to relax at the beach. Overnight stay at Pondicherry
DAY 12 PONDICHERRY - MAHABALIPURAM - CHENNAI: After breakfast, drive to Chennai. En route, visit Mahabalipuram. Mahabalipuram was once a flourishing port of the Pallavas of ancient India. The monuments and sculptures here are world-renowned. Visit the Shore Temple, Arjuna's Penance and Artisans Village at Mahabalipuram. Later proceed to Chennai and check into the hotel for 01 night. Overnight stay at Chennai
Day 13: Full day at Mareena beach and tyme for shopping in the evening
DAY 14 DEPART FROM CHENNAI: Morning at leisure. Later, transfer to Chennai Airport for your flight back home

All Package includes:
The above rates are inclusive of all taxes, all transportation, all sightseeing's, and all meals at houseboat, all transfers, and accommodation for a couple
All incidentals and expenses of personnel nature and not mentioned herewith need to be settled directly at the time of Checkout
Economy: standard hotels
Deluxe: two to three star hotels
Premium: four star and above hotels
All accommodation will be in three & two star hotels, all meals (break fast, lunch, dinner), sight seeing assistance, and taxes.
Transportation will be in a private car, includes driver bata, road permits etc
A/c house boat will be provided only on request and the same will invite an additional cost of Rs 4000.00 ( 100 USD )
Childs below 5 years will be free, below 10 years with extra bed @ Rs 1000.00 (35 USD ) per night and extra person @ Rs 2000.00 ( 75 USD ) per night
Rates are applicable for the period April to Nov and Feb to April.
Peak season rates for December and January 04 will be 20% extra only on the package cost
Boating at Periyar (Thekady wild life sanctuary) will be @ Rs 500.00 ( 15 USD ) per person
All Payments has to reach us one month before the arrival date.
Payments can be made at any of the city bank branches favoring "Southside holidays" a/c no 0002150468 or DD payable at Eranakulam
Handling executives at Kochi, Mr Sreekanth.( Mob : 098461 59025 )