The Houseboats of Kerala are giant country crafts, measuring up to 80 feet in length, retrieved from being lost to the State altogether. Once they ruled the backwaters, poled along by one or two men, heavily loaded with rice, coconut and other commodities. But in the recent times, the kettuvalloms have been replaced by more and modern modes of transport, relegating them to neglect and decay.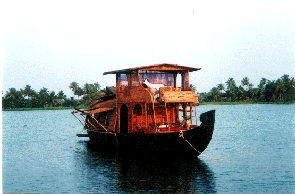 A two deck houseboat on cruise on the backwater
It takes great skill and meticulousness to construct these giant Houseboats by tying huge planks of jack wood together. Curiously enough, not a single nail is used in their making of a houseboat. There used to be an entire clan of artisans who were involved in kettuvallom construction. Today, an innovative holiday idea has restored these majestic representatives of a unique culture and with them their makers.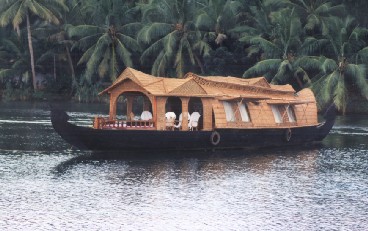 The Kerala houseboats that cruise these emerald waterways are an improvisation on the large country barges which were an essential part of the land's ethos in days gone by. Modified to meet a novel concept of holidaying, the kettuvalloms ( houseboats ) are comfortably furnished with an open lounge, one or two bath attached bedrooms and a kitchenette, and are extremely eco friendly, merging smoothly into the panorama. Every houseboat is manned by a crew - usually a cook, guide and oarsman.

Houseboat Tariff
| | | | | | | |
| --- | --- | --- | --- | --- | --- | --- |
| Route | Standard Houseboat 02 pax | Standard Houseboat 04 pax | Deluxe Houseboat 02 pax | Deluxe Houseboat 04 pax | A/C Deluxe Houseboats 02 pax | A/C Deluxe Houseboats 04 pax |
| Alleppey Round | 5000/- | 7750/- | 6500/- | 10500/- | 8000/- | 12500/- |
| Alleppey- Kumarakom | 5500/- | 8250/- | 7000/- | 11000/- | 8500/- | 13000/- |
| Alleppey- Thotapally | 6250/- | 8750/- | 7500/- | 11500/- | 9500/- | 13500/- |
| Alapuzha - Alumkadavu | 7750/- | 11750/- | 9500/- | 14500/- | 10500/- | 16500/- |
| Kumarakom - Round | 5750/- | 8500/- | 7500/- | 11500/- | 8500/- | 13500/- |